Supporting Structures within MCQST
Support Structures
MCQST sets out to build and strengthen an infrastructure that promotes researchers from different research directions and varied faculties to work together on the key challenges in Quantum Science and Technology (QST). It establishes new opportunities for bachelor, master, and PhD students alike, while at the same time, offers various funding opportunities for junior researchers.
In addition, MCQST sets to attract scientists throughout the world to come together in Munich to accelerate progress in research and technological developments. Thereby, it manages to bring together researchers at all career levels and enhance their international network of collaborators.
MCQST has a strong commitement to establish and maintain not only a culture of fairness and respect, but to implement measures that will assist the career advancement of those who are presently disadvantaged within society.
Equal Opportunity
MCQST has a strong commitment to provide a research environment that supports diversity among scientists with respect to gender, religion, ethnic origin as well as towards people with special needs. We strive to establish and maintain not only a culture of fairness and respect but to implement measures that will assist the career advancement of those who are presently underrepresented within society and research.
In addition to the already existing measures implemented by TUM, LMU, and MPQ we provide targeted support, for example, for mentoring female students and postdocs, networking, career building workgroups and workshops between all levels.
Early Career Researchers
A core aspect of MCQST is its dedication to supporting early career scientists. We aim to build upon the optimal conditions that are already provided by both LMU and TUM for early career researchers with regard to all aspects of career development in science: from graduate education through the promotion of postdocs to junior research group leaders.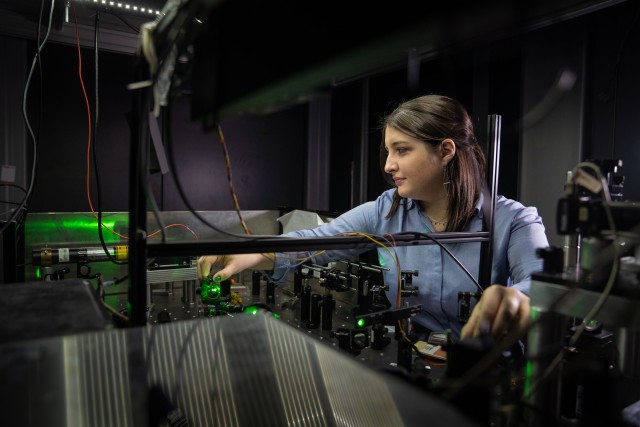 Distinguished Postdoc
One of the major goals of MCQST is to increase the number of female scientists throughout all career stages in the field of Quantum Science and Technology in Munich.

As an incentive for proactive hiring of excellent female postdocs, MCQST is offering fellowships supporting excellent female postdoctoral researchers for one year, under the condition that the hosting MCQST group commits to funding of another year through other means.
START Fellowship
Identifying highly talented junior researchers and encouraging them to pursue a career in science is often the most helpful development in the career of a young researcher. MCQST actively seeks such highly talented early career researchers at the postdoc level within and outside of Munich and encourage them to apply for a MCQST Junior Research START Fellowship.
Seed Funding
MCQST establishes flexible seed funding to trigger and support exceptional and often unorthodox emergent ideas within, and between, the Research Units.
Seed funding will also be deployed to support proposals between cluster researchers and industrial partners. Junior researchers and female researchers will be prioritized for support.
MQC Guest Program
Connecting international top-level experts to MCQST and implementing a vibrant guest program is a core element of the cluster's collaboration strategy. Strengthening the stream of prominent scientists who come to the Munich area for short- and long-term visits contributes to promoting international collaborations. Furthermore, it raises the visibility of QST research in Munich and support junior researchers in building their own international research network.
Conference Support
We are establishing an annual MCQST Conference with talks by MCQST researchers and international visitors and Open Labs for all students and faculty members from our partner institutions. Additionaly, MCQST provides financial support for other international conferences relevant to MCQST researchers.