Master's Program in Quantum Science & Technology
Join the 2nd Quantum Revolution!
Quantum Science & Technology
is a broad, interdisciplinary field of contemporary science spanning a wide range of scientific areas with a high potential for the development of future information, sensing and computing technologies. Major research thrusts are, for example, Quantum Computing, Quantum Sensing, Quantum Simulation, Quantum Materials and Quantum Cryptography to name but a few. The research field is firmly grounded on the basic understanding of the principles of quantum mechanics, but also relies on developments in neighbouring research areas such as mathematics, information technology, electrical engineering and chemistry. It is for this reason that the two Munich Universities –
Technical University Munich
(TUM) and
Ludwig-Maximilians University Munich
(LMU) – have joined their forces to establish this interdisciplinary Master's study program.

Students particularly benefit from the research environment provided by the Cluster of Excellence Munich Center for Quantum Science and Technology (MCQST).
Details on the TUM website
Details on the LMU website
Contact
For any questions you may have, contact the Master in QST Program Coordinator, Dr. Katja Block at studium[at]ph.tum.de.
Program Profile
Students learn to directly translate current results from research and development in Natural Sciences (e. g. Physics, Chemistry) and Mathematics and Engineering (e. g. informatics, electrical engineering) into applications which exploit quantum phenomena – especially superposition and entanglement, such as:
Quantum sensors

Quantum algorithms

Quantum computers

Specialization Areas
Experimental Quantum Science & Technology

Theoretical Quantum Science & Technology
Target group
Students who have completed their Bachelor degree in one of the following topics Physics, Chemistry, Electrical Engineering, Mathematics, and Computer Science with Quantum Mechanics. Basic knowledge in quantum mechanics is required.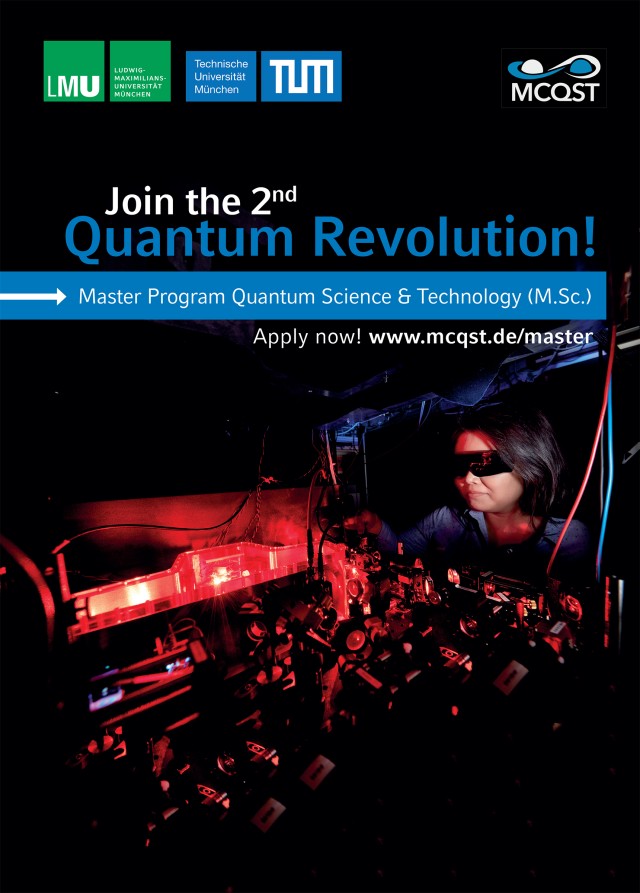 Discover
Learn more about the Master's program in Quantum Science & Technology at TUM & LMU.
Curriculum
Get an overview of the curriculum in the Master's program in Quantum Science & Technology.
Apply
Application requirements and procedure for the Master's program in Quantum Science & Technology.