Wearing Quantum Science on Her Sleeve
Viktoria Patapovich is a Bachelor's student in computer science and mathematics at LMU who wanted to connect with other people passionate about quantum computing. She combined her love of quantum science and painting to found a new online marketplace called Quantum Merch.
Wearing Quantum Science on Her Sleeve
Do you like quantum physics? Are you Shor? Viktoria Patapovich grins from ear to ear when retelling quantum jokes – science-related puns and memes that she and her fellow students love sharing with each other. To her, the appeal isn't in the humor alone, but rather in how these in-jokes help her better connect with other students about their shared interests. Viktoria's enthusiasm for everything quantum-related is palpable, and she could chat with you for ages about the mysterious phenomena that undergird quantum computing. "You can't always understand it logically," she says. "It's not so easy to talk about, because it's just so different, as if it were magic." Yet this "magic" has tangible effects in the real world. During an internship, she saw firsthand how normal, everyday business processes could be solved by a quantum computer that exploits the fantastic-seeming effects of quantum mechanics: "As scientists, we're able to touch this magic just a little bit, and change it, and use it for our work," she says with a sense of awe.
"People wear T-shirts with Puma or Adidas written on them, but why would you advertise for these companies when you could promote quantum computing instead?"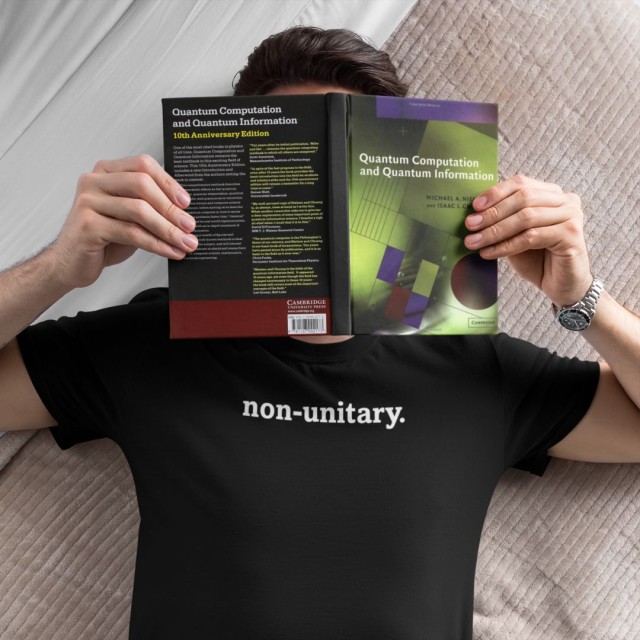 From an early age, Viktoria was fascinated by the universe and wanted to learn more about how it works. After getting a Bachelor's in physics in her home country of Belarus, she began to study in Munich, where, during a lecture at LMU, she learned about quantum computing for the first time. Immediately after class she fell deeply into a Google rabbit hole, scouring the internet for any and all information about quantum computing. Soon thereafter she applied for a working student position at LMU's Quantum Application and Research Lab – led by the very same lecturer, Prof. Claudia Linnhoff-Popien, whose lecture had sparked her interest in the topic. To Viktoria's delight, she got the job.
Although she was thrilled to be fully immersed in the world of quantum science, she nevertheless found it difficult to strike up a conversation about her work: "I'm not always so open, and can't always find the right words." So she began drawing her thoughts instead. A painter in her free time, Viktoria habitually draws images and diagrams in her lecture notes to help make the topics more tangible. One day she drew a cartoon image of the American mathematician Peter Shor, known for creating an algorithm that showed that quantum computers could factor numbers significantly faster than traditional computers. She drew him with a puzzled expression, saying "I'm not Shor…" In the next image, Peter looks confident and brightly exclaims, "Yes, I'm Shor!" She enjoyed showing these drawings to her friends so much that she thought to herself: why not put them on a T-shirt?
She would soon develop that idea into an online store called Quantum Merch, merging her passion for drawing with her love of quantum jokes. She hopes her merch can start conversations about quantum science. "People wear T-shirts with Puma or Adidas written on them," she says, "but why would you advertise for these companies when you could promote quantum computing instead?" After launching the website in January, Viktoria was pleased to discover that many people felt the same way she did. A wave of positive messages flooded her inbox. Fellow students, postdocs, and professors from all over the world wrote to her asking what was coming next, even suggesting ideas for future merch. Michael Nielson, co-author of one of the fundamental texts on quantum computing – one of Viktoria's favorites – sent her a compliment. Even Peter Shor reached out to praise the cartoon rendering of himself.
Viktoria was initially surprised by the outpouring of messages, but now believes she understands why she was met with so much encouragement. "Scientists are super proud of their research," she explains. "I'm proud that I do quantum computing, and I want to show that to other people. When I put on a T-Shirt that has something about quantum computing on it, it's a lot easier to meet other people in that field." And it's not just a conversation starter for scientists. Non-scientists, who may not understand the joke, often ask what's on her shirt. She is more than happy to use that opportunity to spread the word about the wonders of quantum computing. Because of this, wearing her own merch around town has made her more confident talking about this complicated subject with anyone. "I just want to bring people together. And I think it's awesome that I can get people interested in quantum science just by wearing a T-shirt."
Links