Quantencomputer. Wer, wie, was, wieso, weshalb, warum?
12 June 2023
from 19:00 to 20:30
Warum brauchen wir Quantencomputer? Wie funktionieren sie? Und wann werden wir sie endlich haben? Prof. Andreas Wallraff gibt Einblicke in der Welt der Quantencomputern.
Public Events
Distinguished Lecturer
Address / Location
Münchner Künstlerhaus
Lenbachplatz 8
80333
München

Als MCQST Distinguished Lecturer hält Prof. Andreas Wallraff (ETH Zürich) eine Reihe von Vorträgen, die sich an unterschiedliche Zielgruppen richten. Dieser öffentliche Vortrag richtet sich an alle, die neugierig auf die Quantenwissenschaft sind - auch an absolute Anfänger!
Quantencomputer. Wer, wie, was, wieso, weshalb, warum?
Andreas Wallraff | Department für Physik, ETH Zürich, Schweiz
Quantencomputer sind Maschinen, von denen erwartet wird, dass sie in Zukunft Probleme meistern können, die für gewöhnliche Computer unlösbar sind. Warum brauchen wir Quantencomputer? Wie funktionieren sie? Wann werden sie einsatzbereit sein? In diesem Vortrag werde ich einen Einblick in die spezifischen Eigenheiten von Quantencomputern geben. Zum Beispiel, wie sie sich von Computern unterscheiden, die man aus dem Alltag kennt. Warum es so schwierig ist, sie zu bauen. Was der Stand der Technik ist und welche die zukünftigen Herausforderungen sind. Prof. Wallraff wirdsich auf die neuesten Entwicklungen aus seinem Labor an der ETH Zürich beziehen, in dem die Forschungsgruppe Quantencomputer aus supraleitenden Schaltkreisen bauen. Werfen Sie einen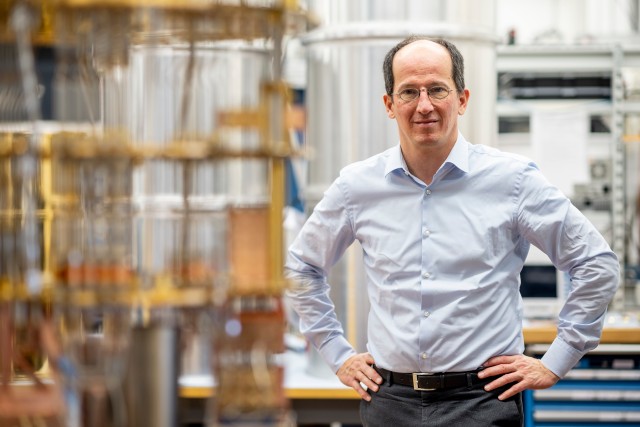 Über Andreas Wallraff
Since January 2012 Andreas Wallraff is a Full Professor for Solid State Physics in the Department of Physics at ETH Zurich. He joined the department in January 2006 as a Tenure Track Assistant Professor and was promoted to Associate Professor in January 2010. Previously, he has obtained degrees in physics from Imperial College of Science and Technology, London, U.K., Rheinisch Westfälische Technische Hochschule (RWTH) Aachen, Germany and did research towards his Masters degree at the Research Center Jülich, Germany. During his doctoral research he investigated the quantum dynamics of vortices in superconductors and observed for the first time the tunneling and energy level quantization of an individual vortex for which he obtained a PhD degree in physics from the University of Erlangen-Nuremberg. During the four years he spent as a research scientist at Yale University in New Haven, CT, USA he performed experiments in which the coherent interaction of a single photon with a single quantum electronic circuit was observed for the first time. His research is focused on the experimental investigation of quantum effects in superconducting electronic circuits for performing fundamental quantum optics experiments and for applications in quantum information processing. His group at ETH Zurich engages in research on micro and nano-electronics, also on hybrid quantum systems combining superconducting electronic circuits with semiconductor quantum dots, making use of fast and sensitive microwave techniques at ultra-low temperatures. For more information visit the group's website.
Anmeldung
Der Eintritt ist frei, wir bitten jedoch um eine verbindliche Anmeldung. Nach der Anmeldung, erhalten Sie eine E-Mail-Bestätigung mit einem QR-Code, den Sie am Einlass vorzeigen müssen.
Der Vortrag, der in deutscher Sprache gehalten wird, beginnt um 19:00 Uhr und im Anschluss besteht die Möglichkeit dem Referenten Fragen zu stellen. Bitte beachten Sie, dass der Einlass ab 18:30 Uhr erfolgt.
Über die Exzellenz-Cluster Munich Center for Quantum Science and Technology (MCQST)
MCQST erforscht die wissenschaftlichen Grundlagen von komplexen Quantensystemen und schafft die technologische Basis für die Quantentechnologie, eine zentrale Zukunftstechnologie des 21. Jahrhunderts. Die Forschenden adressieren wichtige Anwendungsfelder, die von Quantencomputern, über leistungsfähige Quanteninformationssysteme und Quantensensoren bis zu neuartigen Quantenmaterialien reichen. MCQST würde von der LMU München, der TUM, der Max-Planck-Institut für Quantenoptik, der Walther-Meissner-Institut der Bayerischen Akademie der Wissenschaften und dem Deutschen Museum in 2019 gegründet und ist von der Deutsche-Forschungsgemeinschaft gefördert.