Quantum Computers: from basic research to industrial maturity
12 June 2019
We are thrilled to invite you to join Dr. Hartmut Neven (Google Quantum AI), on a journey to explore the world of quantum computers.
Address / Location
Deutsches Museum | Ehrensaal
Museumsinsel 1
80538
München
Die Veranstaltung ist ausgebucht. Schreiben Sie uns eine E-Mail und wir setzen Sie gerne auf die Warteliste und informieren Sie, wenn einen freien Platz verfügbar wäre.
Wir laden Sie herzlich zum öffentlichen Abendvortrag von Hartmut Neven zum Thema Quantencomputer: von der Grundlagenforschung zur Industriereife ein.
Quantencomputer haben die technologische Reife erlangt in Sekunden Berechnungen auszuführen, für die die schnellsten klassischen Supercomputer Jahre brauchen. Trotzdem sind die Fähigkeiten von Quantenprozessoren momentan noch sehr begrenzt, da sie nur eine kurze Zeit zur Verfügung haben um Algorithmen auszuführen bevor die notwendigen quantenmechanischen Zustände zerfallen. In diesem Vortrag werde ich erklären wie Quantencomputer funktionieren und für welche Algorithmen ihre enorme Rechenleistung in Zukunft nützlich sein wird. Insbesondere werde ich beschreiben wie Quantenalgorithmen helfen könnten Technologien zu entwickeln, die beitragen den Klimawandel aufzuhalten oder eine weitere Revolution in der künstlichen Intelligenz auszulösen.
Über Dr. Hartmut Neven:
Hartmut Neven ist Technischer Direktor bei Google. Er ist Gründer und Leiter des Quantum Artificial Intelligence Labs. Das Ziel des Labors ist es Quantenprozessoren herzustellen und Quantenalgorithmen zu entwickeln, um Rechnungen, die für die Künstliche Intelligenz benötigt werden, dramatisch zu beschleunigen. Zuvor war Hartmut Neven Leiter des Visual Search Teams von Google. Sein Team entwickelte den visuellen Suchdienst, der heute von einer großen Anzahl von Google Produkten verwendet wird, darunter Google Image Search, Google Photos, YouTube, Street View und Google Lens. Seine Teams gewannen verschiedene Wettbewerbe für Maschinelles Sehen: Gesichter (FERET 1996, FRVT 2002), Objekte (ImageNet 2014), Text (ICDAR 2013). Er war Mitbegründer von Project Glass und leitete die Gruppe, die den ersten Prototyp baute. Neven gründete zwei Unternehmen, die Maschinelles Sehen entwickelten. Sein zweites Unternehmen, Neven Vision, wurde 2006 von Google gekauft. Neven Vision war Pionier bei der visuellen Suche und brachte die ersten Gesichtsfilter auf Basis von Gesichtserkennung auf den Markt. Hartmut Neven promovierte 1996 an der Ruhr-Universität Bochum mit einer Arbeit über "Dynamics for vision-guided autonomous mobile robots". Danach wurde er Forschungsprofessor an der University of Southern California.
Begrüßung : Prof. Dr. Wolfgang Heckl, Generaldirektor des Deutschen Museums
Moderation : Prof. Dr. Immanuel Bloch, MCQST Sprecher, LMU München & Max-Planck-Institut für Quantenoptik
Referent : Dr. Hartmut Neven, Technischer Direktor Google Quantum A.I.
Der Vortrag, der in deutscher Sprache gehalten wird, beginnt um 19:00 Uhr und im Anschluss besteht die Möglichkeit dem Referenten Fragen zu stellen. Bitte beachten Sie, dass der Einlass ab 18:30 Uhr erfolgt.
Der Eintritt ist frei, wir bitten jedoch um eine verbindliche Anmeldung über den "Apply"-Button oder per Email an events(at)mcqst.de. Nach der Anmeldung bekommen Sie eine Bestätigung per Email.
Hinweis: Aufgrund des begrenzten Platzangebots ist die Teilnehmerzahl auf 200 beschränkt. Die Anmeldungen werden in der Reihenfolge des Eingangs berücksichtigt.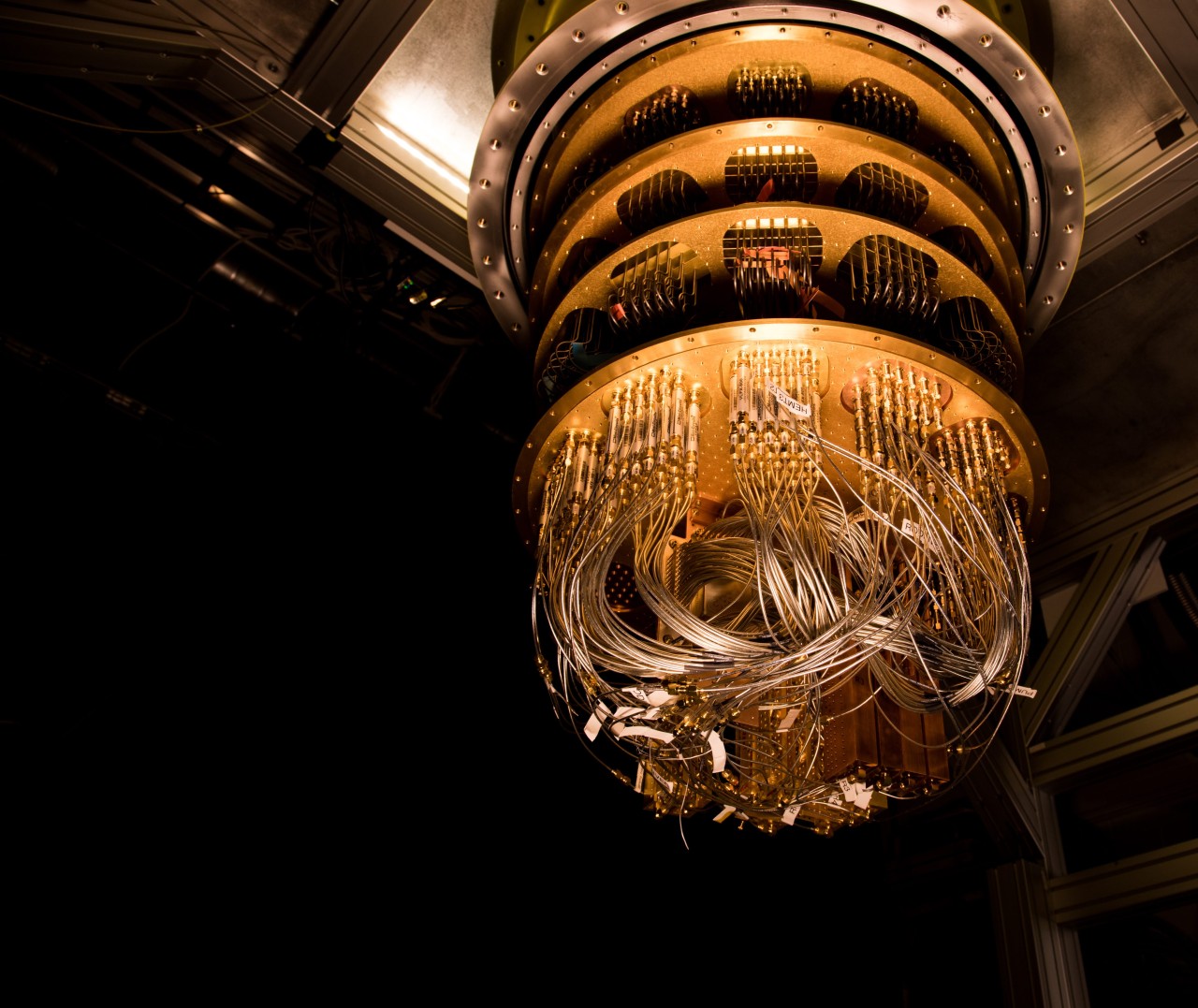 The event is now fully booked. Send us an email if you wish to register for our waiting list, and we will inform you if a spot is available.
We are thrilled to invite you to the public talk held by Hartmut Neven, entitiled "Quantum Computers: from basic research to industrial maturity".
Quantum computers have now reached the technological maturity to perform in seconds calculations for which the fastest classical supercomputers would need years. Nevertheless, the capabilities of quantum processors are currently still very limited, as they only have a short time to execute algorithms before the necessary quantum mechanical states disintegrate. In this lecture, Dr. Hartmut Neven will explain how quantum computers work and for which algorithms their enormous computing power will be useful in the future. In particular, he will describe how quantum algorithms could help develop technologies that contribute to halting climate change or triggering another revolution in artificial intelligence.
About the speaker:
Hartmut Neven is an Engineering Director at Google AI. He is the founder and manager of the Quantum Artificial Intelligence lab. The objective of the lab is to fabricate quantum processors and develop novel quantum algorithms to dramatically accelerate computational tasks for machine intelligence. Previously, Hartmut was the head of Google's Visual Search team. His team developed the visual search service which today is used by a large number of Google products including Image Search, Google Photos, YouTube, Street View and Google Lens. His teams won a number of competitions designed to establish the best visual recognition software for faces (FERET 1996, FRVT 2002), objects (ImageNet 2014) and text (ICDAR 2013). He was also a co-founder of Project Glass and led the team that built the first prototype. Hartmut started two computer vision companies. His second company, Neven Vision, was acquired by Google in 2006. Neven Vision pioneered visual search and launched the first face filters based on facial feature detection. Hartmut obtained his Ph.D. in 1996 with a thesis on "Dynamics for vision-guided autonomous mobile robots". Then he became a research professor at the University of Southern California.
Introduction : Prof. Dr. Wolfgang Heckl , General Director of Deutsches Museum
Moderation : Prof. Dr. Immanuel Bloch, MCQST Speaker, LMU Munich & Max Planck Institute for Quantum Optics
Speaker : Dr. Hartmut Neven, Technical Director Google Quantum A.I.
The talk, which will be held in German, starts at 7:00 p.m. and there will be a Q&A session afterwards. Please note that admission begins at 6:30 p.m..
Admission is free, but a registration via the "Apply" button or via email to events(at)mcqst.de is required. After registration, you will receive a confirmation by email.
Please note that due to limited seating capacity, the number of participants is restricted to 200. The registrations will be processed in order of receipt.