MCQST Scientists Receive 2021 Quantum Future Awards
6 September 2021
MCQST Scientists at the 2021 Quantum Future Awards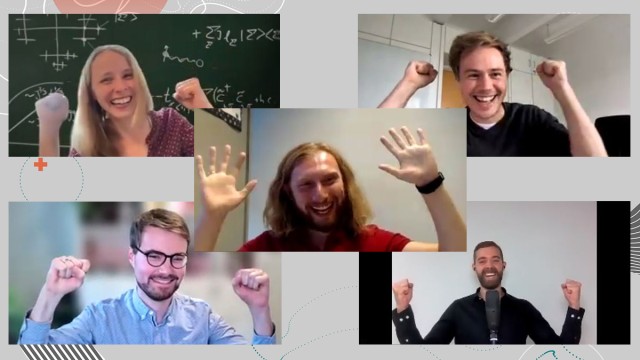 The annual Quantum Future Awards is a program of the German Federal Ministry of Education and Research (Bundesministerium für Bildung und Forschung) which honors outstanding master's and doctoral theses with high potential relevance to the field of quantum technologies. On August 26, the virtual award ceremony took place, and ten finalists present the jury and audience with short pitches based on their theses. The submitted papers were evaluated by a panel of experts from politics, industry, and science. Among the ten finalists, three scientists from the MCQST cluster were represented.
In the PhD category, Dr. Annabelle Bohrdt, who completed her PhD at the Technical University of Munich, won second prize with her thesis on "Probing strongly correlated many-body systems with quantum simulation."
Two MCQST scientists were finalists in the master's category: Benjamin Schiffer of the Ludwig-Maximilians-Üniversität and Esther Cruz Rico of the Max Planck Institute of Quantum Optics (MPQ). Benjamin Schiffer, now a doctoral student at MPQ, won second prize in this category with his thesis "A Variational Quantum Adiabatic Algorithm for Noisy Intermediate-Scale Quantum Devices".
MCQST wishes a heartfelt congratulations to all finalists and winners of the Quantum Future Awards!
The award ceremony was broadcast live on YouTube. You can view an edited cut of the ceremony here:
Images: BMBF.